The All-New MU-X is extraordinary
The All-New Isuzu MU-X has arrived on Australian shores. With exquisite styling inside and out, enhanced off-road features including 4x4 Terrain Command and a Rear Diff-Lock on all 4x4 models. Coupled with the latest technology, including Android Auto™ and wireless Apple CarPlay®. Plus exceptional safety with the Isuzu Intelligent Driver Assistance System◊. The 7-seat Isuzu MU-X is fully equipped for your next on or off-road adventure.
STYLE & CONFIDENCE
A compelling combination of form and function, the All-New Isuzu MU-X is as confident in the city as it is off the beaten track. Its shape is both muscular and modern. Longer, wider and even more distinctive, the MU-X makes a grand statement – wherever you go.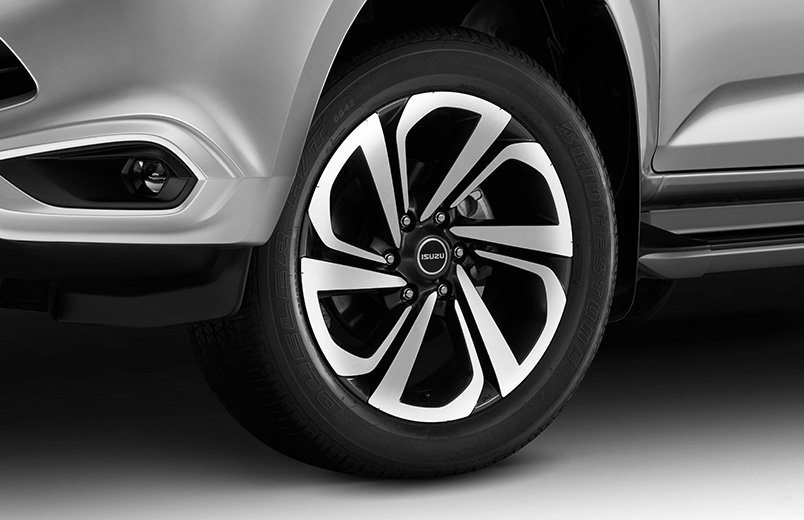 20" Alloy Wheels
Stylish 20" alloy wheels on the are built tough for all terrains. LS-U models combines sleek 18" alloys and LS-M models feature dynamic 17" alloys.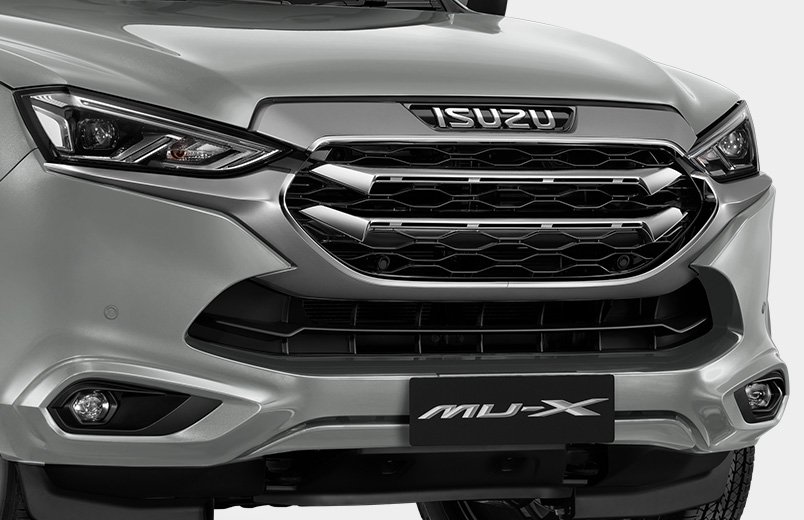 Stylish Front Grille
The Isuzu MU-X catches the eye with a broad, bold grille that flows effortlessly into a decisively sculpted silhouette.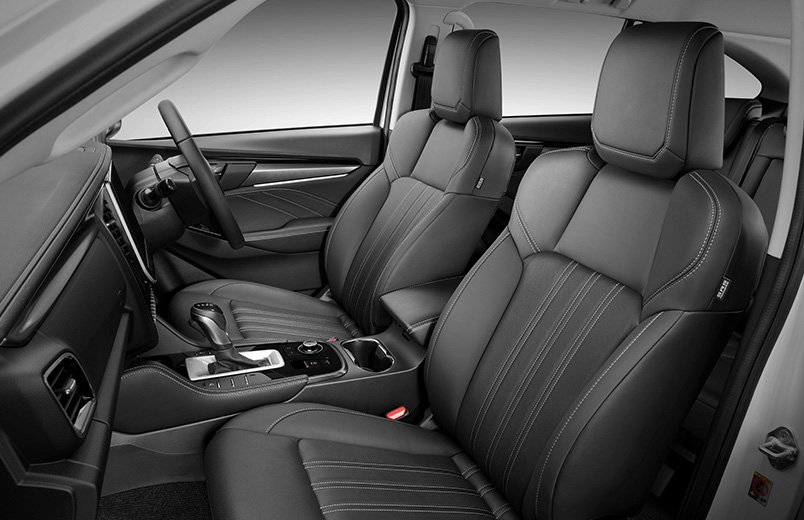 7-Seat Leather Accented§ Interior
Room for the whole team and stacks of gear with 7-seats standard across the MU-X range. LS-T models boast a luxurious leather accented§ interior & heated front seats.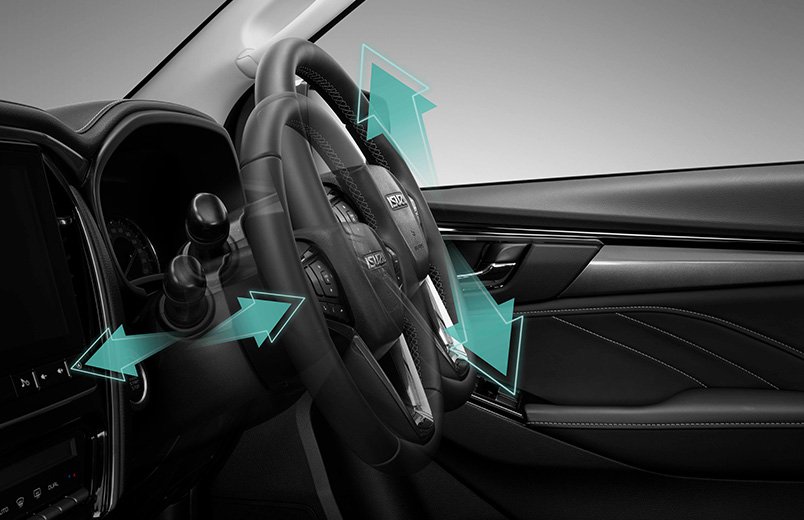 Tilt & Telescopic Steering Wheel
All models feature a height and reach-adjustable steering wheel for improved comfort and control.
BROADEN YOUR HORIZONS
One of the greatest things about Australia is going your own way with a caravan, boat, or trailer in tow. With the All-New Isuzu MU-X, you've got the perfect travelling companion. The power and dependability of Isuzu's proven 3 litre turbo-diesel engine make light work of every journey, and a genuine Isuzu UTE tow-bar kit will enable 3.5 tonne towing+ – whatever the terrain.
ISUZU MU-X PERFORMANCE FEATURES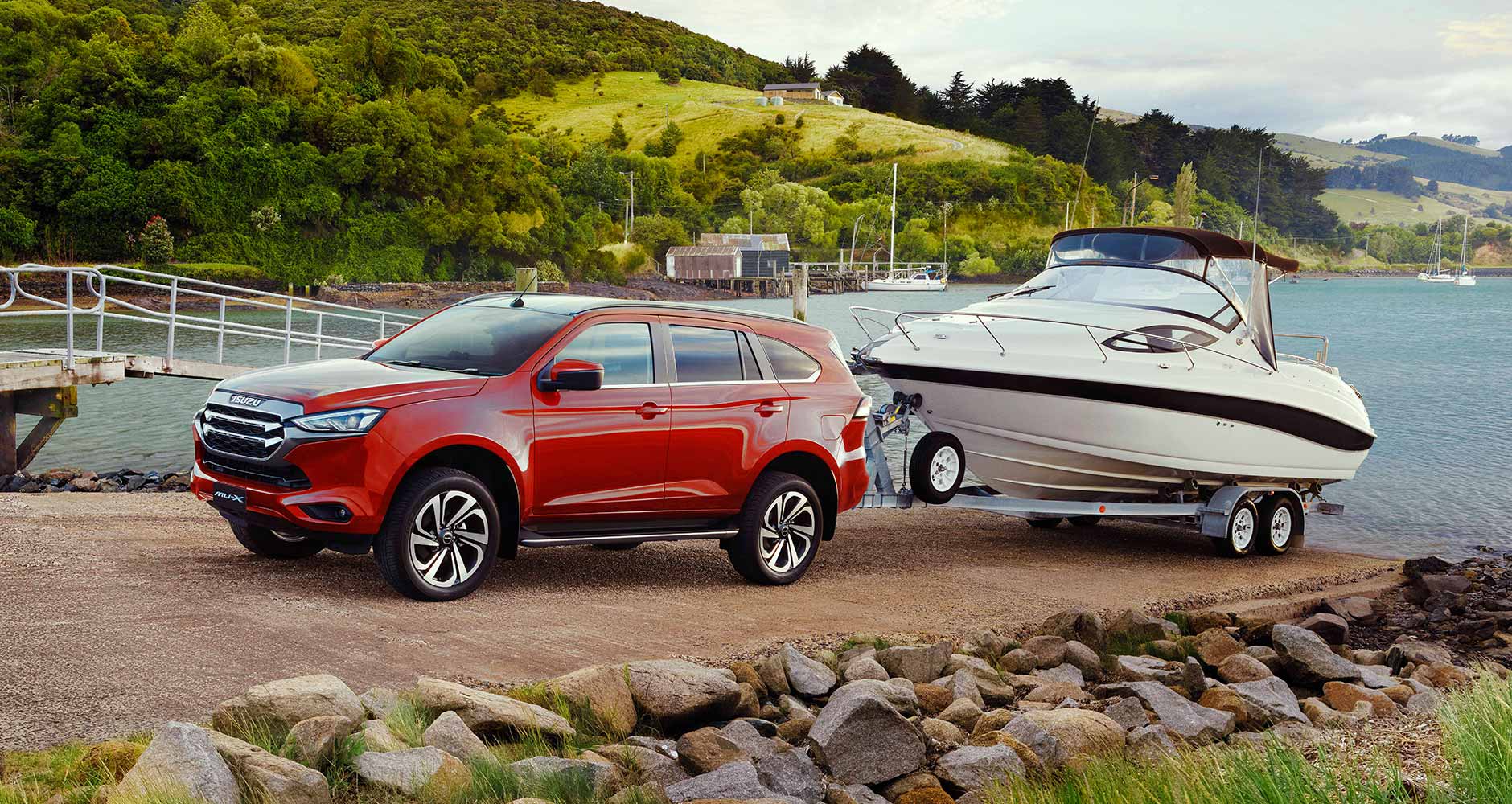 3.5T TOWING CAPACITY+
The All-New MU-X has serious pulling power, with 3.5 tonne braked towing capacity+ across the range. Load up with all your gear, then hitch up a boat, caravan or trailer. Driving the MU-X you never have to leave anything behind.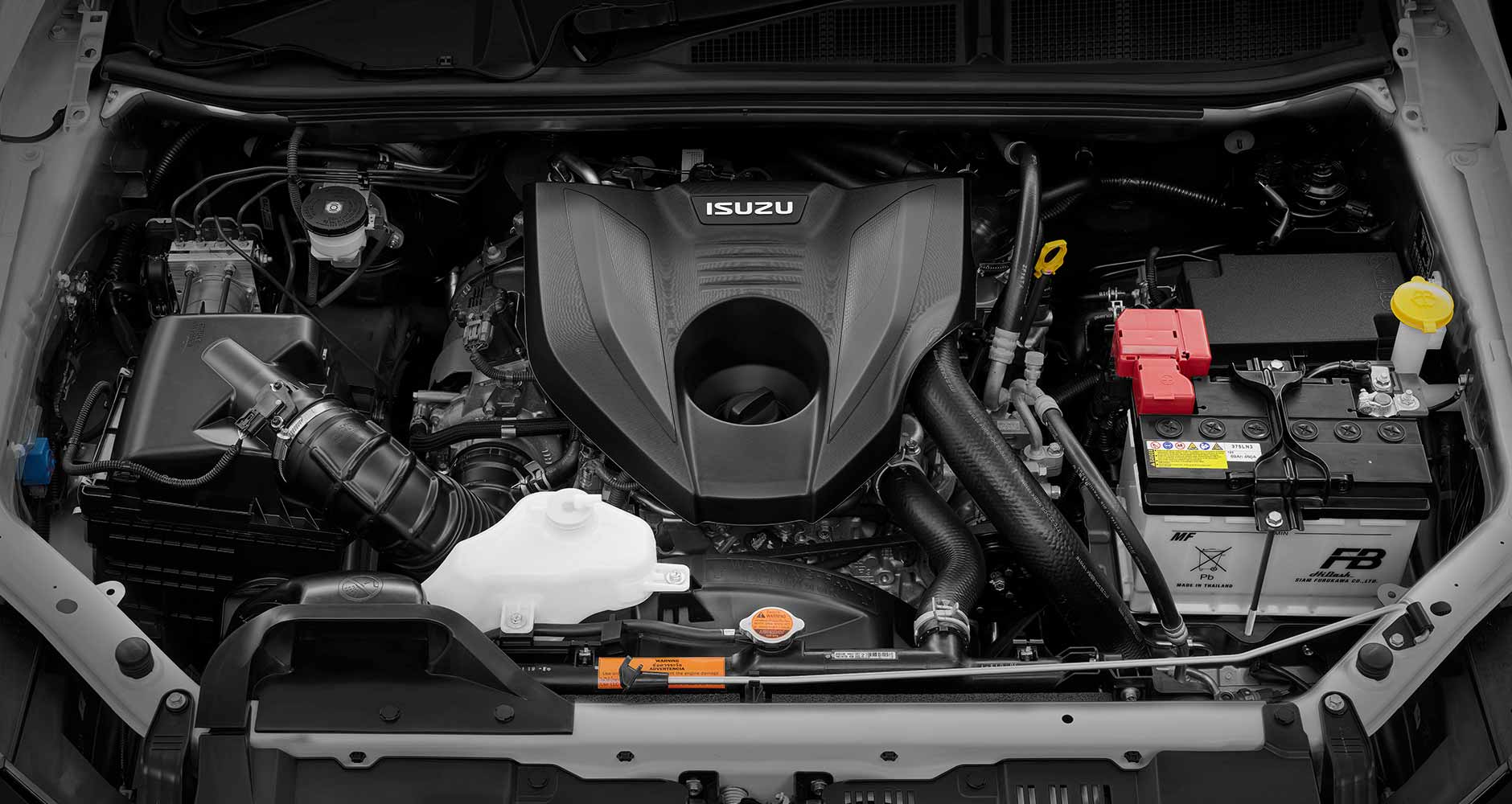 3 LITRE TURBO-DIESEL ENGINE
The driving heart of the MU-X is the powerful and fuel efficient Isuzu 3.0L turbo-diesel engine. Coupled with a 6-speed automatic transmission it produces 450Nm of torque and 140KW of power for smooth, effortless acceleration no matter what load you're carrying or towing.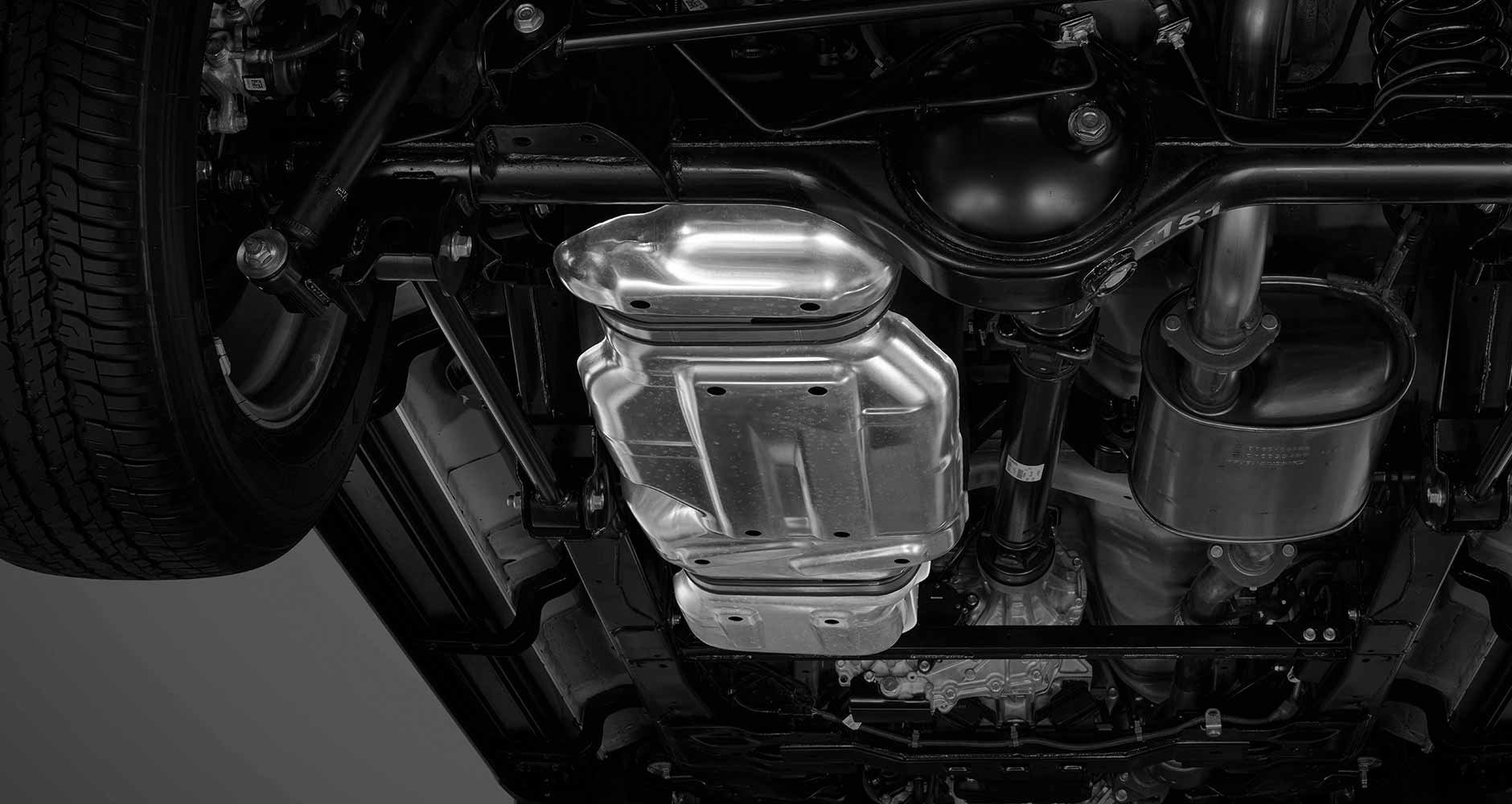 80L FUEL TANK
Drive further, for longer with the help of the MU-X's huge 80 litre fuel tank.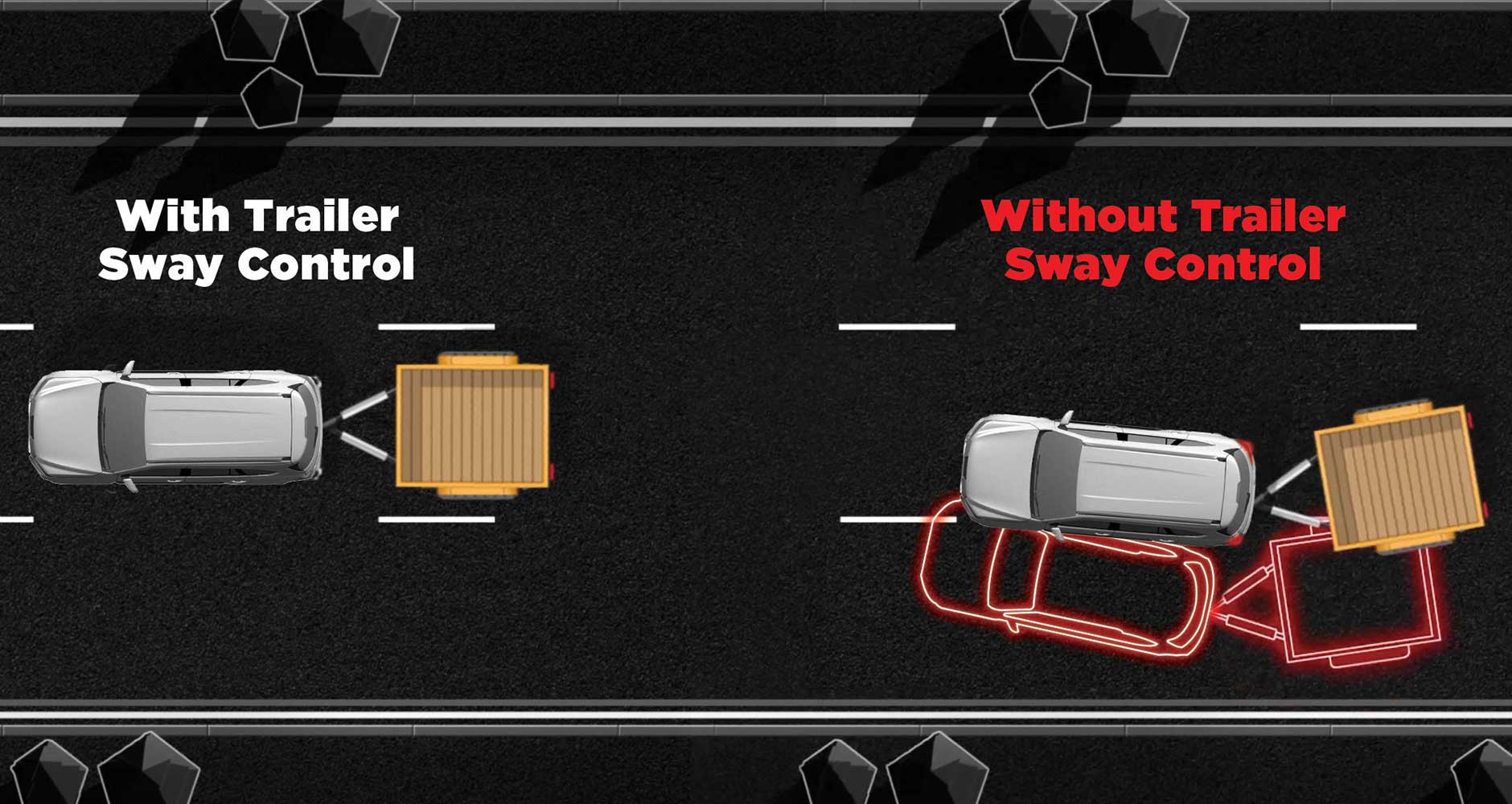 TRAILER SWAY CONTROL
Trailer Sway Control detects trailer sway and activates measures to control unwanted movement while towing.
INTUITIVE & INSPIRED TECHNOLOGY
Advanced New Tech
The All-New Isuzu MU-X makes your life easier with a full suite of next-level technology. From wireless connectivity to lightning-fast touchscreens, it delivers the perfect balance of functionality and convenience.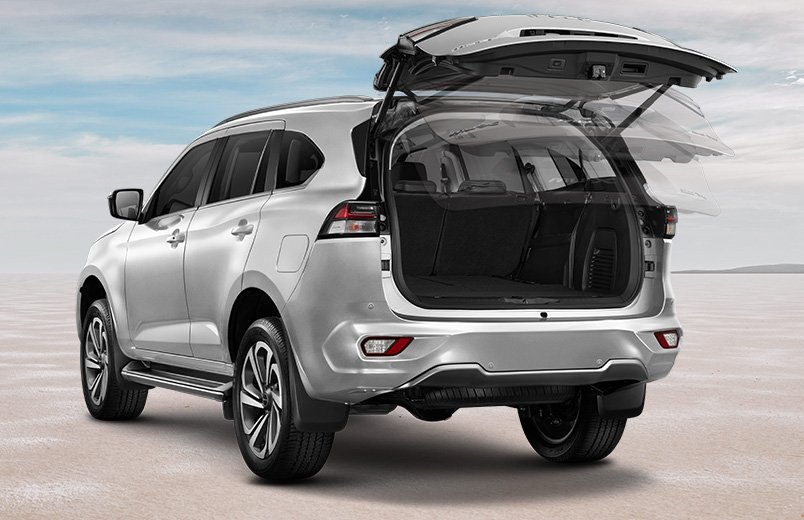 Power Tailgate
Activate the power tailgate conveniently from within the car, on the key fob or on the tailgate itself.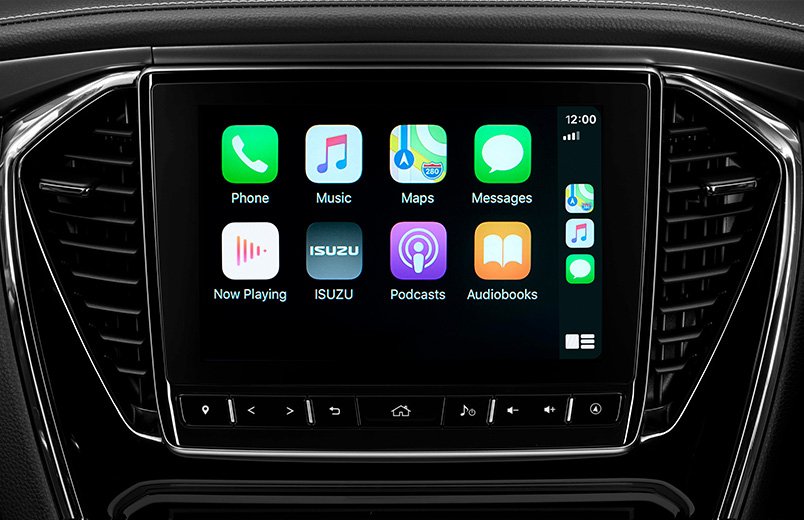 Apple CarPlay® / Android Auto™
Connect your smartphone to your vehicle via Android Auto™ or wireless Apple CarPlay® which will allow you to play music, navigate, answer phone calls and text messages.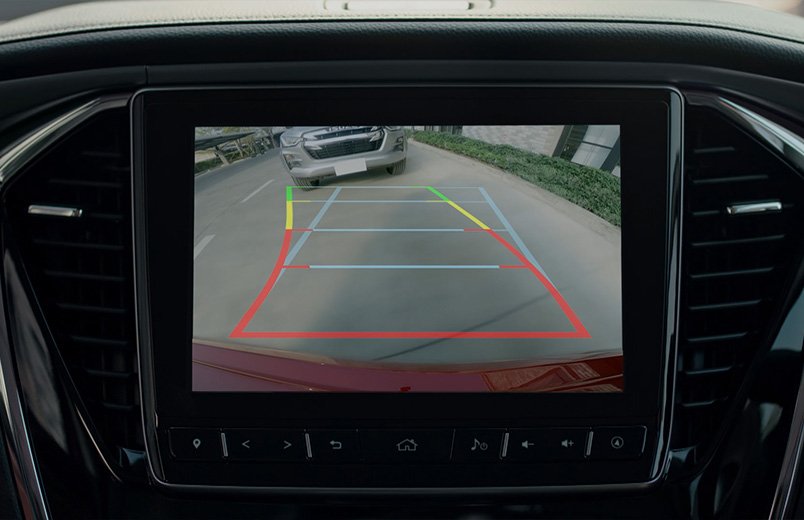 Reversing Camera
The MU-X gives you eyes in the back of your head with a reversing camera. Perfect for tricky parking situations, hitching a trailer or reversing out of a driveway.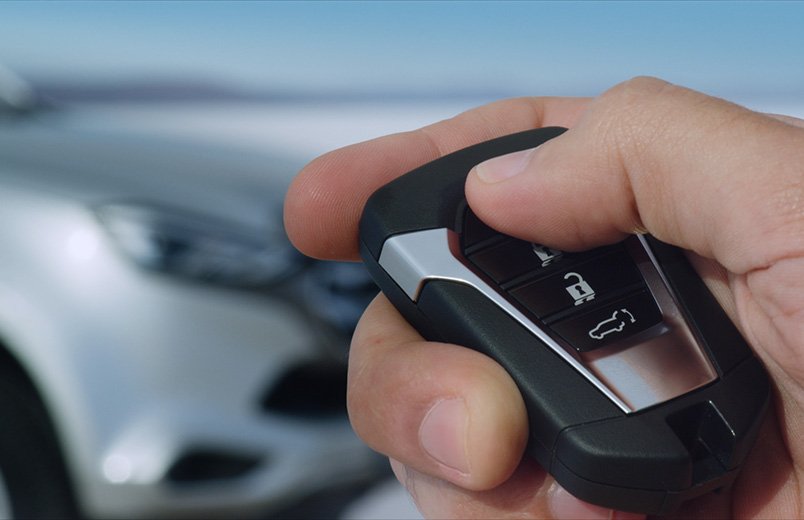 Remote Engine Start
Start your vehicle with a press of the remote button. The aircon can be activated prior to entry to cool the cabin on a hot day.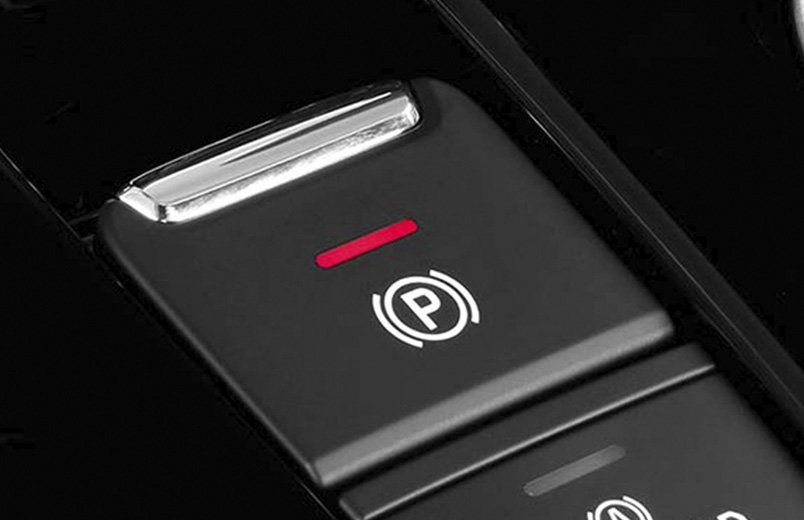 Electric Park Brake
Every MU-X comes standard with an electric park brake and auto-hold function, meaning the brake will initiate every time you put your MU-X in 'Park'.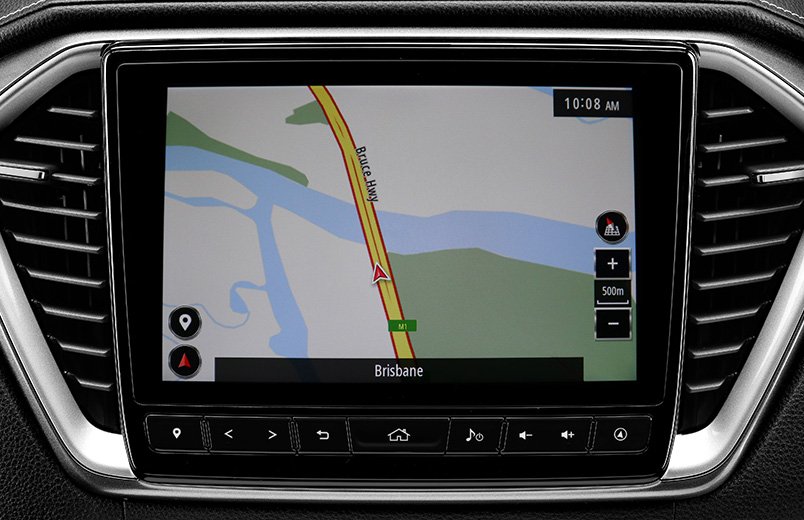 Satellite-Navigation
Satellite-Navigation instructions are conveniently displayed on the infotainment system on LS-T & LS-U models, helping you get to your destination.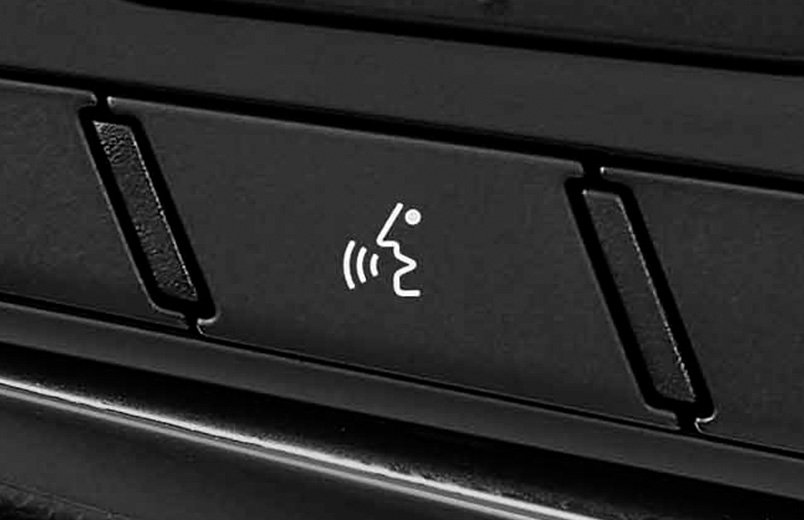 Voice Recognition
Call a friend, ask for directions or switch to a new radio station with voice commands - all while you keep your hands on the steering wheel and your eyes on the road.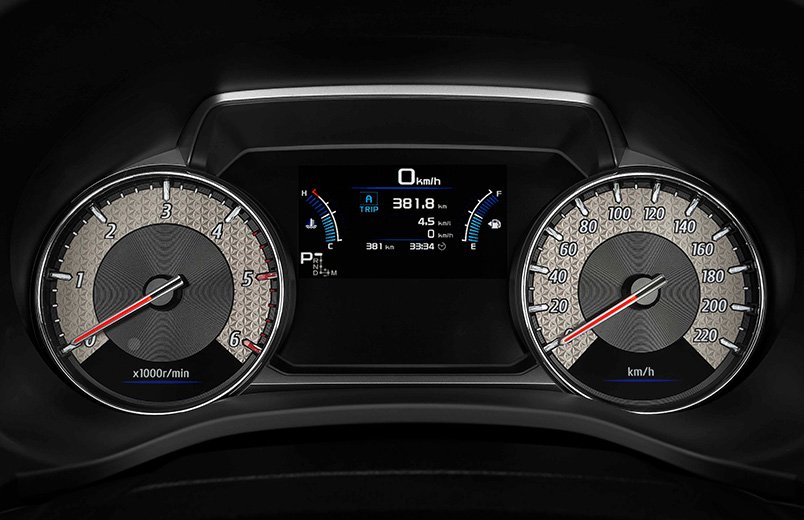 MID Display
A digital, 4.2 inch customisable Multi-Information Display (MID) is standard across the range providing information on a variety of vehicle features.
BUILT FOR OFF-ROAD
The All-New Isuzu MU-X is built to conquer Australia's toughest terrain, all while in the ultimate comfort. Because life and adventure begins off the beaten path.
ISUZU MU-X OFF-ROAD FEATURES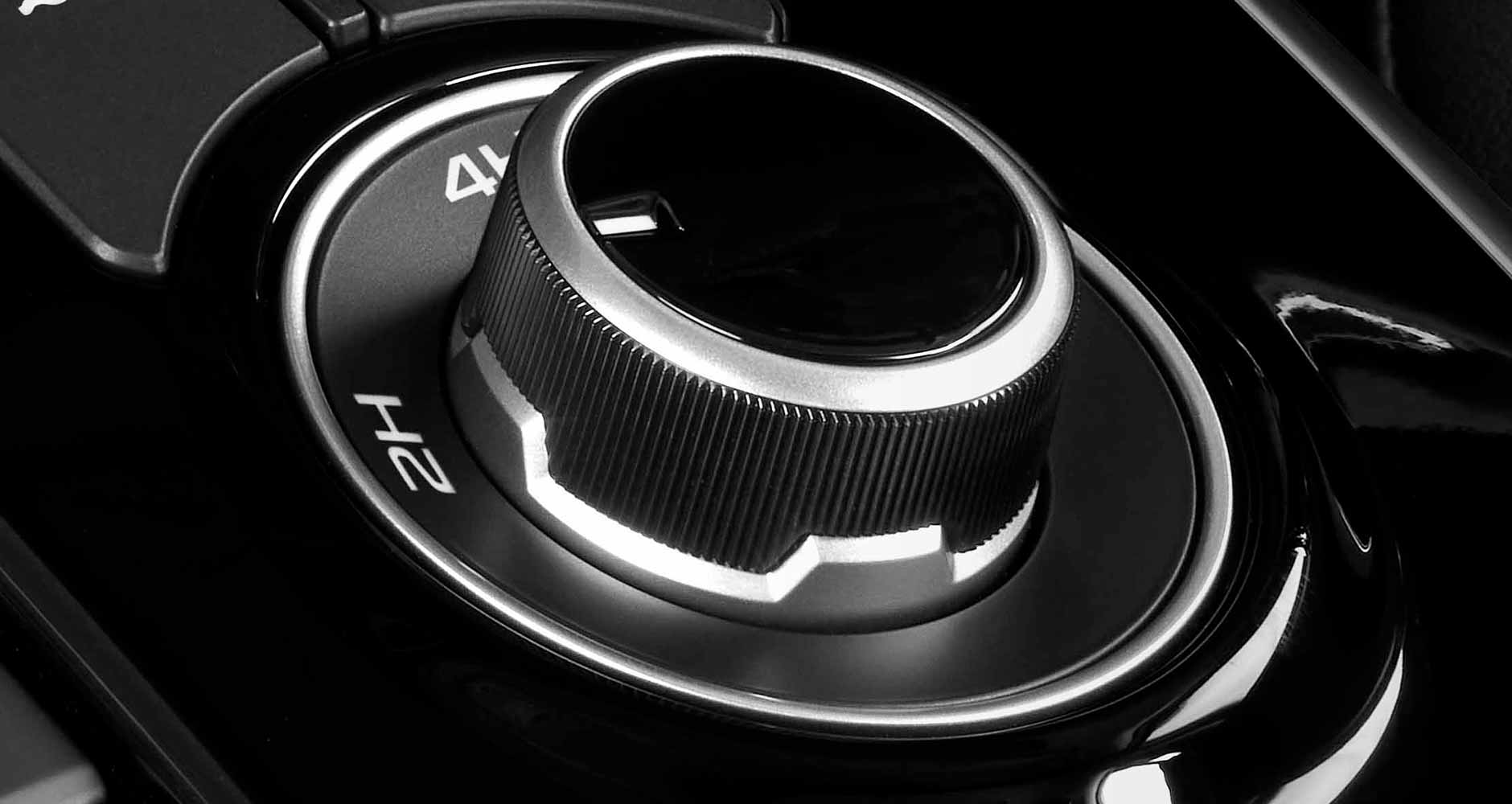 4X4 TERRAIN COMMAND
Switch between 2WD-high and 4WD-high on the fly at speeds of up to 100km/h. When the going gets tough, select 4WD-low for increased traction and control.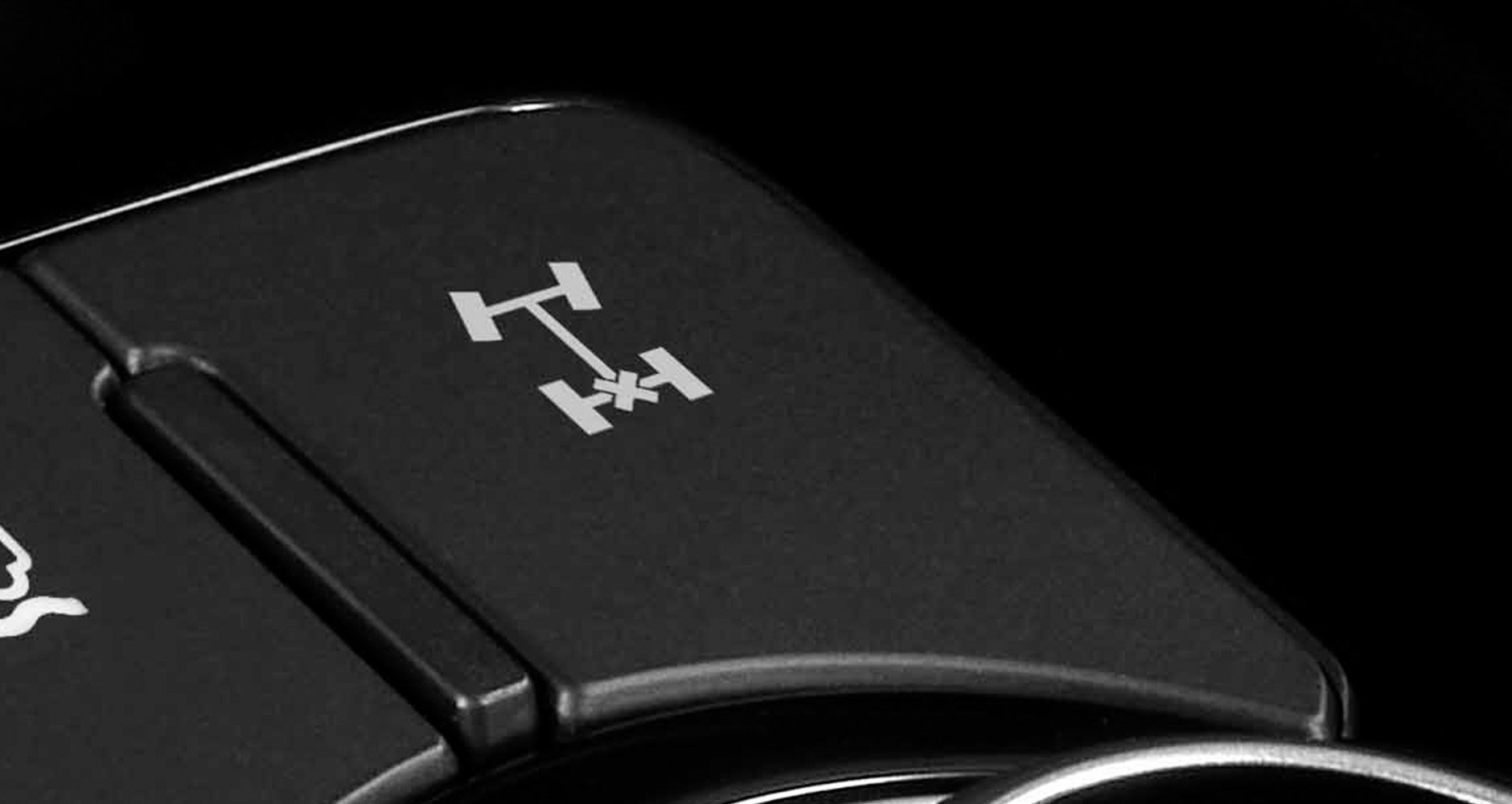 REAR DIFFERENTIAL LOCK
Standard on all 4x4 models, the rear differential lock can be engaged with the push of a button when in 4WD-low.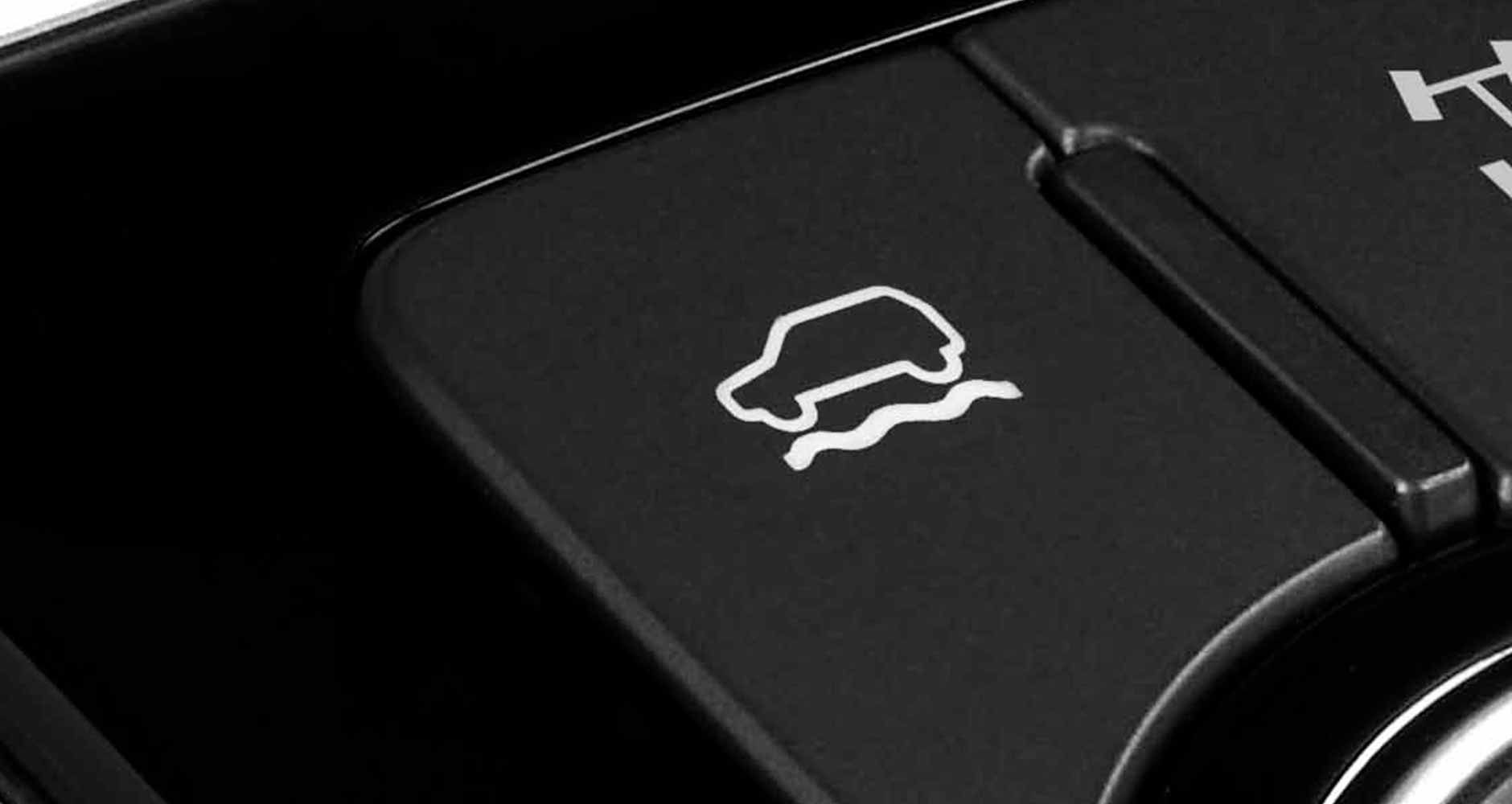 ROUGH TERRAIN MODE
Engineered for Australian conditions, every 4x4 MU-X features Rough Terrain Mode as standard. Rough Terrain Mode provides a new lease on traction as an off-road biased electronic driver aid that maximises drivability in technical, slippery and rough conditions.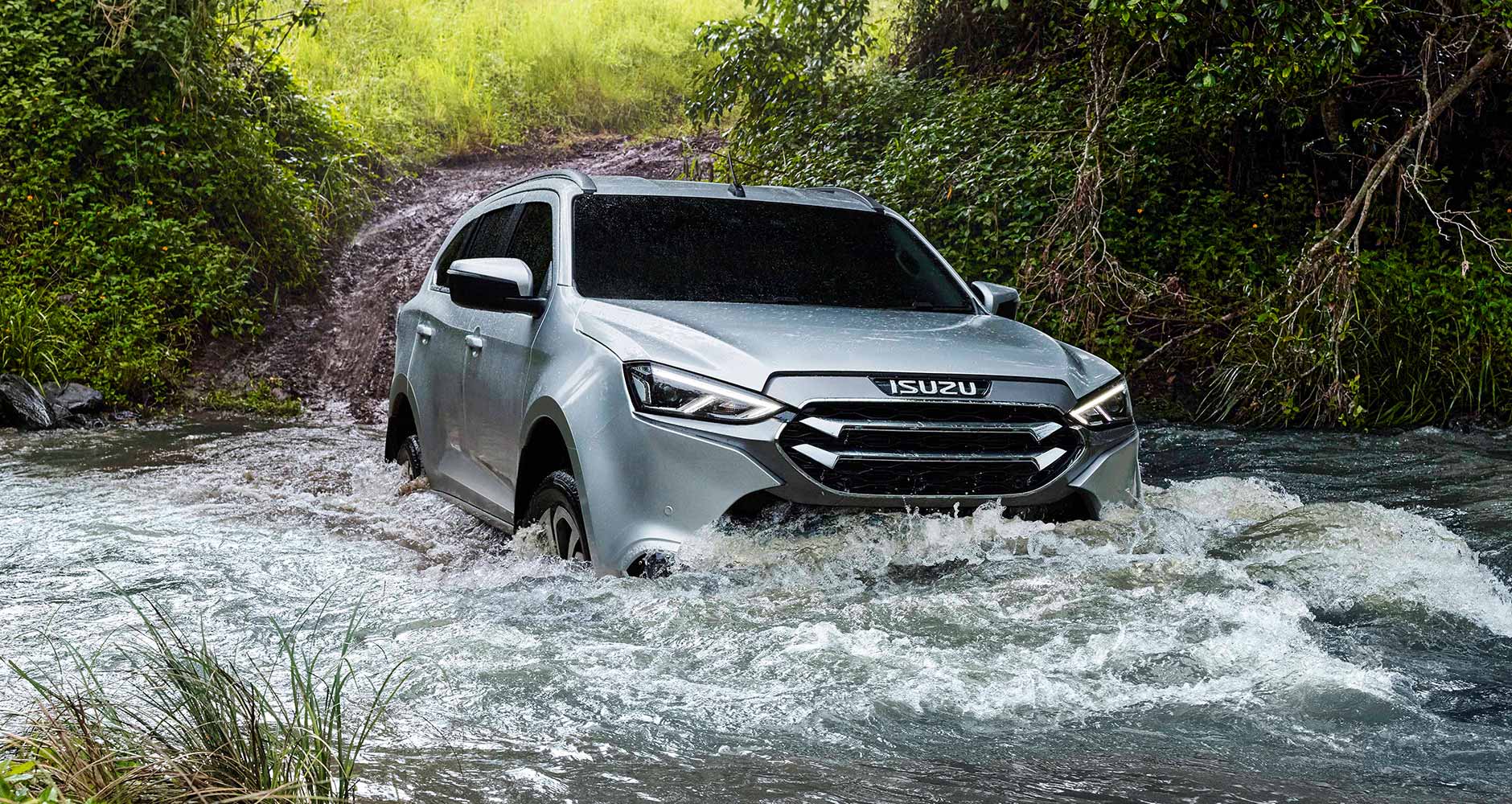 800MM WADING DEPTH
Wherever you're planning to go, your 4x4 MU-X is up for the task. With generous steel underbody protection, and a wading depth∞ of up to 800mm, the MU-X is your most reliable way to escape the everyday.
INTELLIGENT SAFETY
The MU-X enhances your driving experience – and your safety – with cutting edge and personalised driver assistance systems. Standard across the range, Isuzu's Intelligent Driver Assistance System (IDAS) technology includes an extensive list of both active and passive safety systems. Employing state-of-the-art sensors and multiple cameras, IDAS constantly monitors your surrounding environment for danger.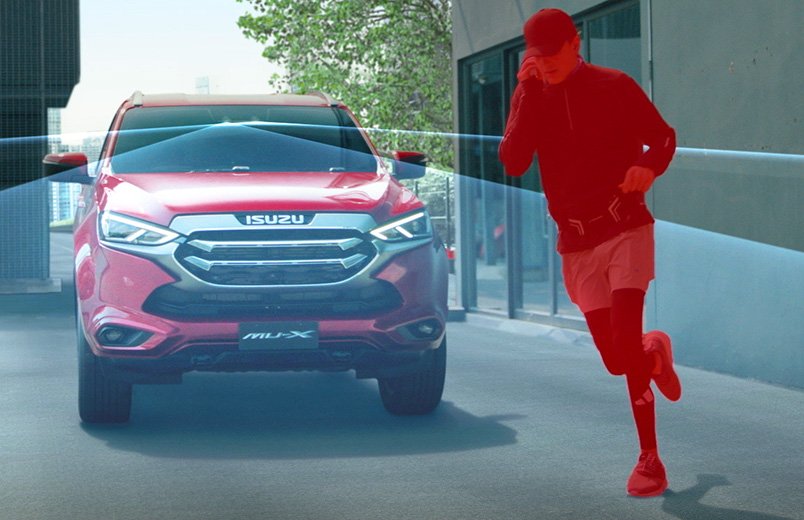 Autonomous Emergency Braking (AEB)
If your MU-X detects a potential collision, emergency braking is applied automatically.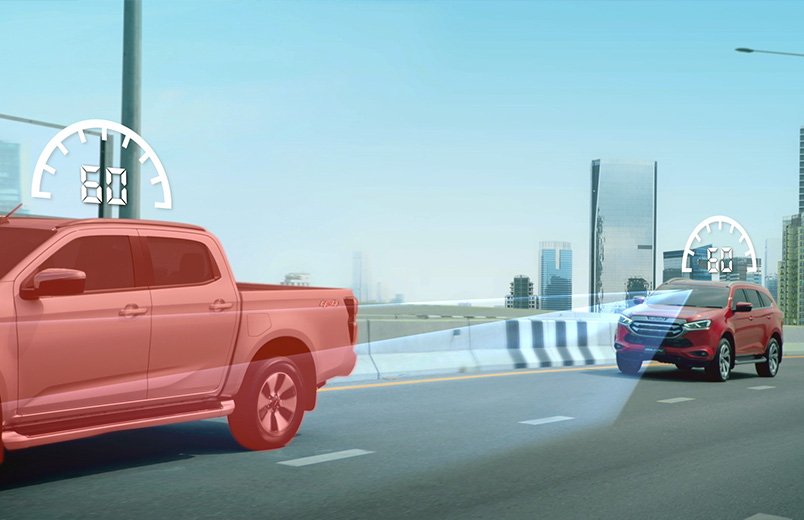 Adaptive Cruise Control
When activated, the Adaptive Cruise Control automatically adjusts your speed based on the vehicles around you, including Stop & Go functionality.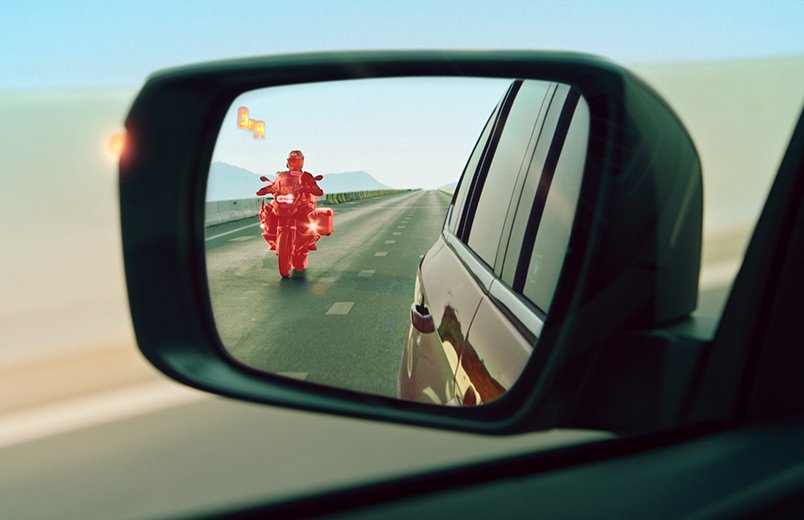 Blind Spot Monitor
Provides a visual warning in your side mirrors when an obstacle is approaching in your blind spot.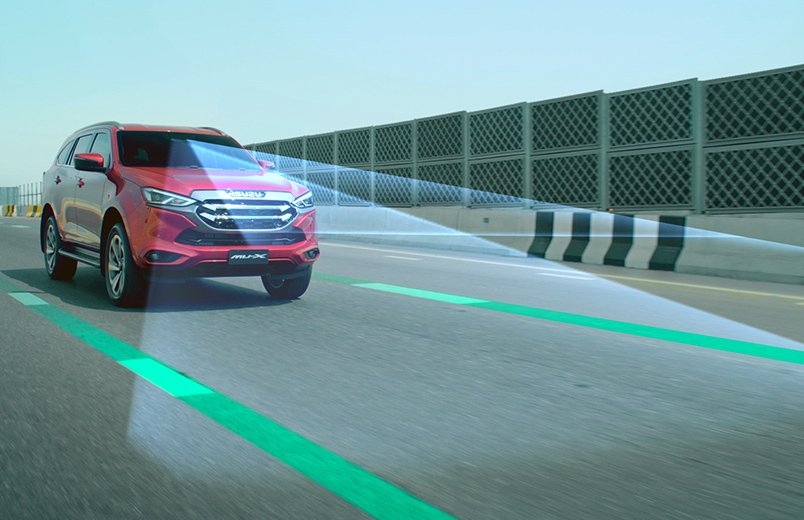 Lane Keep Assist
If there is danger of collision with vehicles approaching from behind in an adjacent lane, the vehicle will help avoid the collision by preventing lane departure.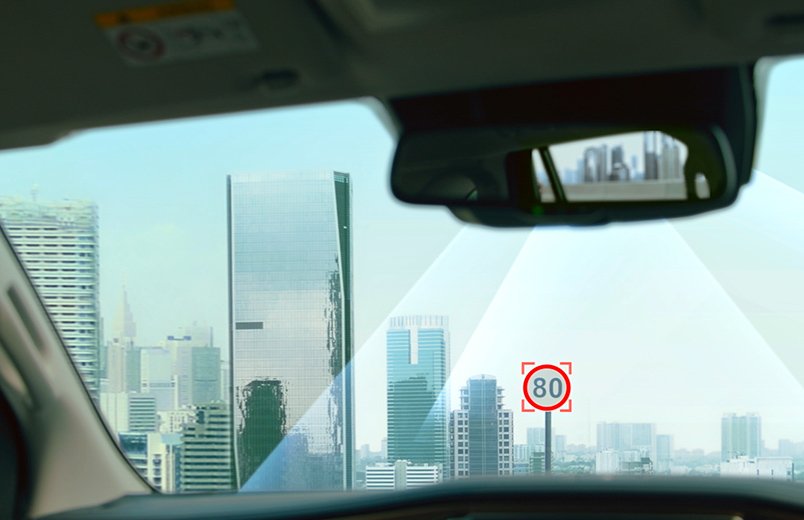 Traffic Sign Recognition
The MU-X recognises traffic signs, displaying information such as speed limits in the Multi-Information Display on the dash for easy reference.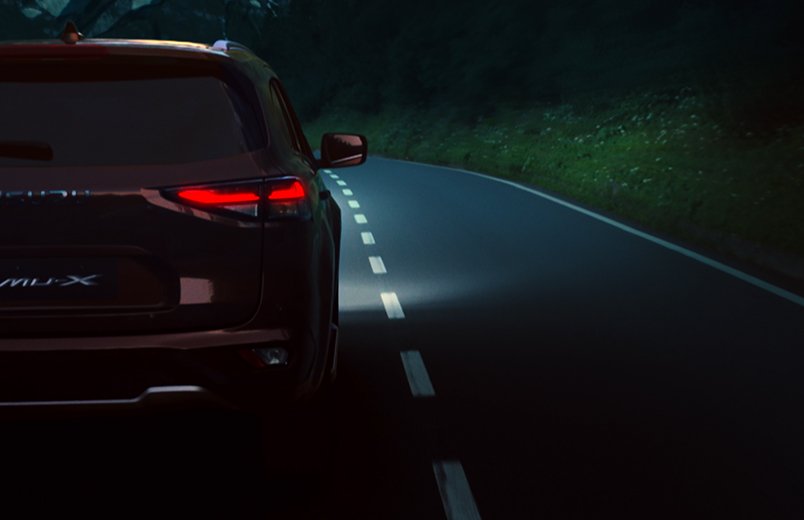 Automatic Headlights
Headlights automatically turn on when it is dark, such as at dusk or in underground car parks. During travel, the MU-X dims the high beams automatically to avoid dazzling other drivers.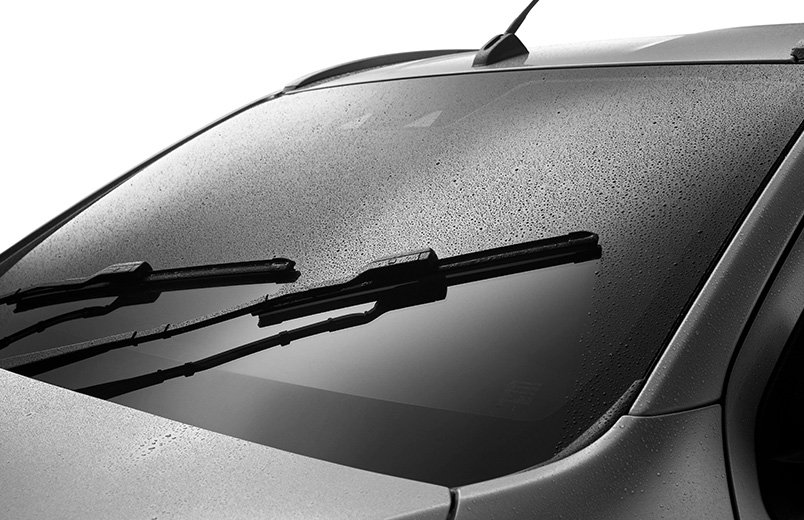 Rain Sensing Automatic Wipers
Standard across the range, the Automatic Rain Sensing Wipers automatically wipes the windshield when needed and varies the frequency of the wipe depending on the amount of rain detected.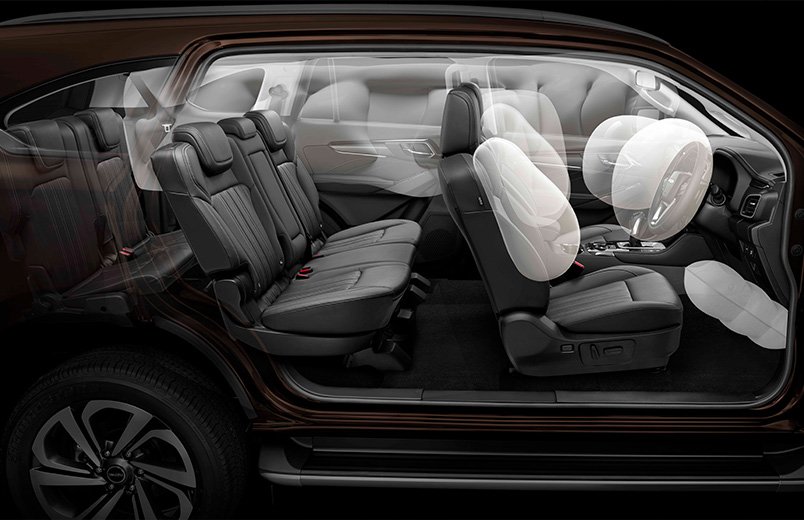 Eight Airbags
For ultimate protection, every MU-X comes with eight airbags, including a centre airbag to protect front seat occupants in side-on collisions.
Watch the All-New MU-X Launch.
Watch the full launch video to find out how the All-New MU-X is more capable than ever before.
SEE THE MU-X IN ACTION!
The All-New MU-X is both ruggedly capable and refined. As comfortable on the commute as it is crossing the Nullarbor or cresting Cape York. Watch this video to see the MU-X in action across the variety of different terrains.
360° Digital Test Drive
Experience what it's like to sit inside the All-New Isuzu MU-X. We'll take you on an immersive journey and explain all the new features you will love.
MU-X Range
4x4 Models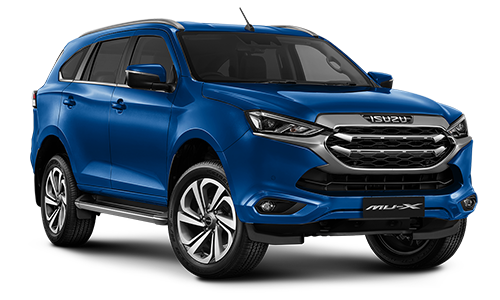 MU-X 4x4 LS-T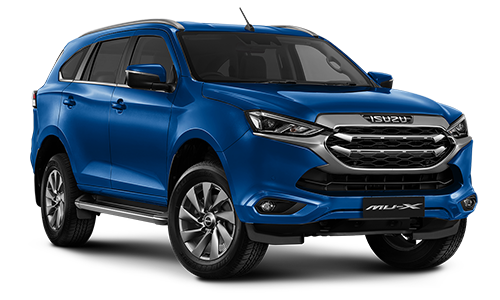 MU-X 4x4 LS-U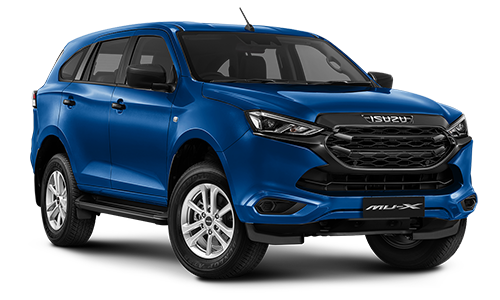 MU-X 4x4 LS-M
4x2 Models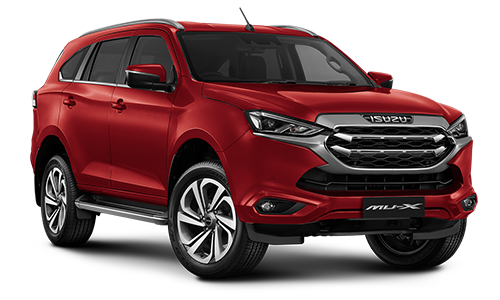 MU-X 4x2 LS-T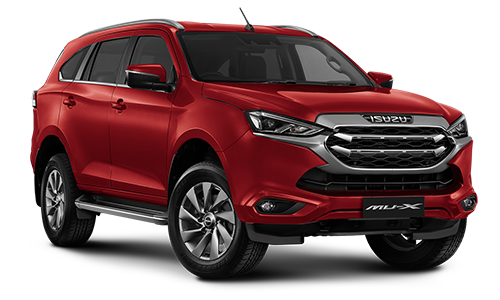 MU-X 4x2 LS-U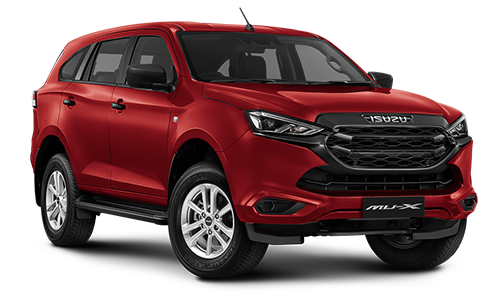 MU-X 4x2 LS-M